The Secret To A Positive Workplace Culture
Businesses often question cultural fit and organisational values when it comes to making supplier and outsourcing decisions. But it's not just the client organisation that faces this challenge it is also the provider or outsourcing organisation. Julia Edmonds, Managing Director at Lexington, discusses the secret to creating a positive workplace culture.
People remain at the heart of our business, here at Lexington, and top-level decisions are very much driven by our culture and values. 'Cultural fit' is just as important to us, as an outsourcing organisation, as it is for our client. In the same way clients want our reception and catering staff to be an extension of their organisation and reflect their brand, we want them to represent Lexington.
The challenge we face, as an outsourcing organisation, is that the large majority of our employees are based at our client premises. We need our employees to represent our clients, understanding their values and culture but we also need them to do things the 'Lexy way', reflecting our brand and culture. So how do we ensure outsourcing is not a vampire to our culture?
Shared Values
It is important to look at fit, in terms of values.
Richard Branson says the first thing he looks for when hiring is 'a personality that fits with the company culture'.
We take a similar approach here at Lexington. We know that an employee whose values fits with our culture will generally be much happier at work and more committed. Whereas employees whose values and approach to work differs is far more likely to leave to find a role in an organisation that is more aligned to their own values and beliefs.
The same principle can be applied to a client/supplier relationship. It is far more likely to be successful if values are aligned. This does not mean values and culture need to be perfectly matched it's more about having an appreciation for each other's values:
As an outsourcer, we understand what is important to our clients and can share this with our team.
Clients understand our approach and the importance of our values in terms of attracting and retaining top talent.
We make sure that we embed ourselves in our client organisations. We work hard get to grips with their brand and understand how they operate so that we can succeed in delivering great service. Whilst we don't expect our clients to do the same we do make sure that they understand and believe in our core values.
We don't need exactly the same values. A successful client/outsourcing relationship is not about being the 'same' but it is dependent on having an appreciation for the other organisation's values and willingness to support them in a positive way.
It's not just us who think this. Sheila de Cordova, Partner, Head of Events, Hospitality & Charity at Knight Frank LLP, says, "When making a decision about who we work with the decision often comes down to the people and ultimately how people behave comes back to organisational values.
"Lexington's ethos is similar to our own and therefore there is a great synergy. We are both extremely people focused and we can rely on Lexington to recruit the best and to be an extension of our organisation, reflecting our brand."
Forget two-way, think three-way communication
Forming a strong relationship is the key to success from a client-supplier perspective but also employer-employee perspective. Creating this open dialogue and being clear about your values and culture early on is key. It will help address any questions or concerns around 'cultural fit'that may come up, which could prevent the formation of a harmonising relationship.
Making Employees Feel A Part Of Your Organisation
As we grow it has become imperative that the core values and beliefs that made Lexington what it is today continue to be our strength and point of difference in such a competitive market place. We want to create a friendly, fun, supportive community, making sure that our team feel part of Lexington.
This is why a clear communication strategy is so important. Not only do we have an extranet and regular communication that is sent to our teams but we make sure our senior team is visible. The leadership team regularly visit all of our client sites and we organise regular events to encourage collaboration of teams across the business.
Feedback shows employees value this and it helps make sites feel part of the wider Lex community.
Keep Things Simple
Keeping things simple, when it comes to values and culture, is important. It's this that enables employees and clients understand what the values are and how they are applied from an operational point of view.
Our values are very clear and concise, both in terms of the words used but also how they are communicated. It is easy to see how they can be applied:
– To deliver great food and service to people at work
– Respect clients and colleagues, suppliers and the planet
– Enjoy what we do and have fun
– Nurture great talent
– Value inclusivity and individuality
– Be bold and take the initiative
– Be profitable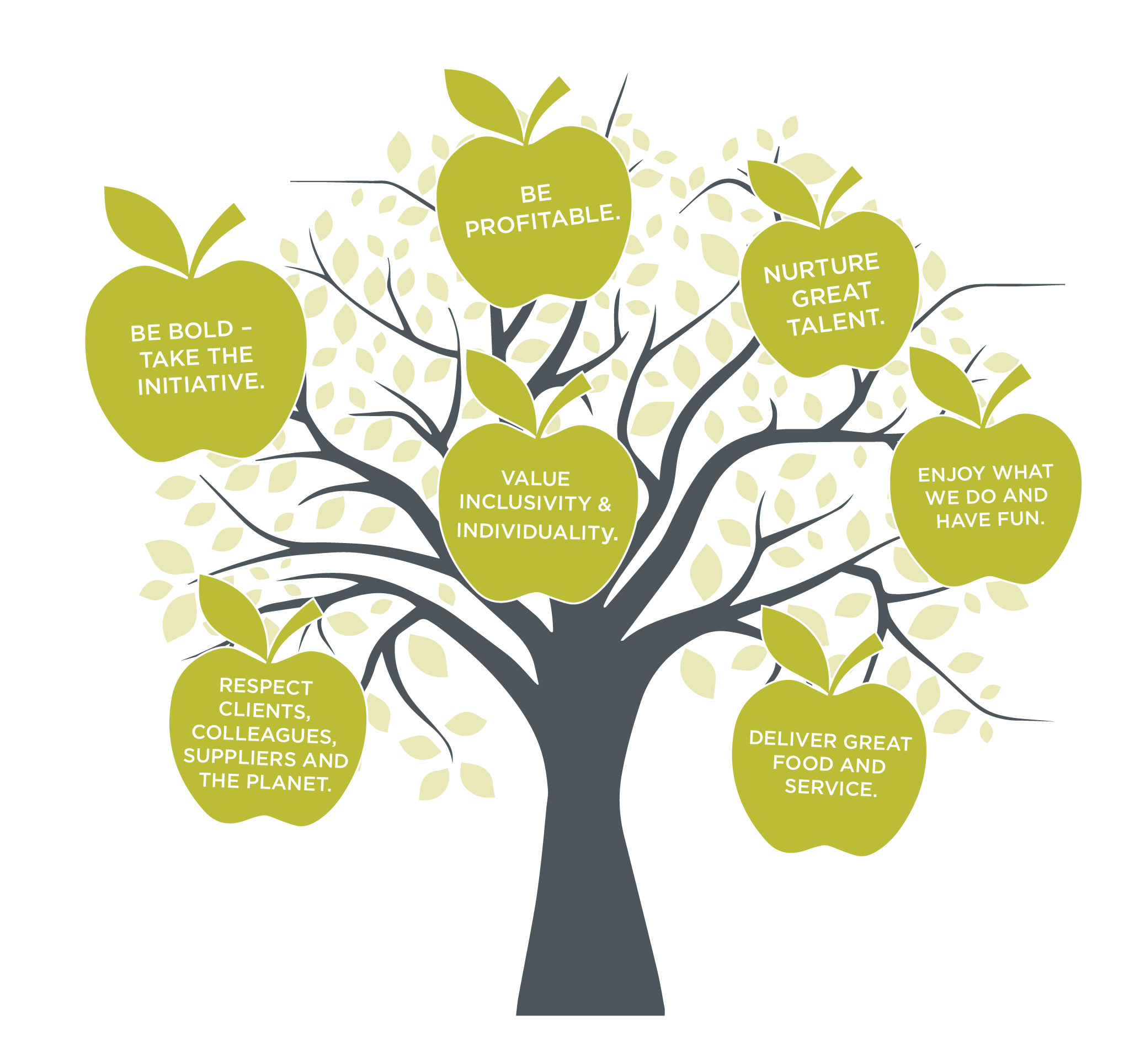 To truly embed the values we need our managers support. They help embed these values in the workplace and  this has helped us to continue taking a 'Lexy' approach to our day-to-day work.
We've put a structure in place to ensure we attract people into our business who are aligned to our values and culture. We also work with organisations who support our values.
Values form a foundation for everything that happens in the workplace. They determine how people behave and this is why it is important that they are embedded throughout the organisation, regardless of where employees are located.